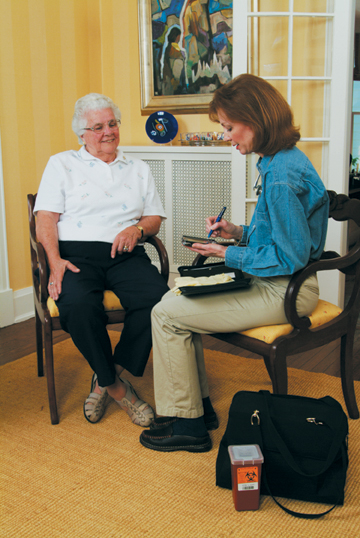 Your Doctor
We work with your doctor to develop a plan of care based on your specific healthcare needs. Your doctor will give our staff "orders" for the medical care you need. This may include nursing care, therapy, medications, medical equipment, and so on.
Our staff will keep your doctor updated on your medical condition and any changes in your health. Your doctor can then adjust the care plan as needed.
Nurses
A Registered Nurse (RN) or Licensed Practical Nurse (LPN) will provide skilled nursing care. Home care nurses are trained to provide care, assess symptoms and monitor progress. The nurse will work with your physician to update your plan of care as needed. If you have questions or concerns about your general health, medications, or symptoms, please talk to your nurse.
Physical and Occupational Therapists
Your doctor may order rehabilitation services with a physical or occupational therapist. These professionals are trained to help you in many ways. They can check for hazards in your home, and help with balance and walking. They can guide you on exercise and activity, and teach you techniques for safely bathing, dressing, getting in and out of bed, and so on.
Home Health Aides
Home health aides provide personal care in your home under the guidance of your nurse or therapist. This may include help with bathing, shampooing hair, changing bed linens, and so on. Your aides are very well trained. They must complete competency evaluations that meet federal and state regulation standards.
Your Family and Other Caregivers
Home care services are designed for part-time medical needs, not 24-hour care. This means family members and caregivers may also help with your care. With your permission, we can talk with them about providing care when the medical team is not in your home.